TSLab laboratory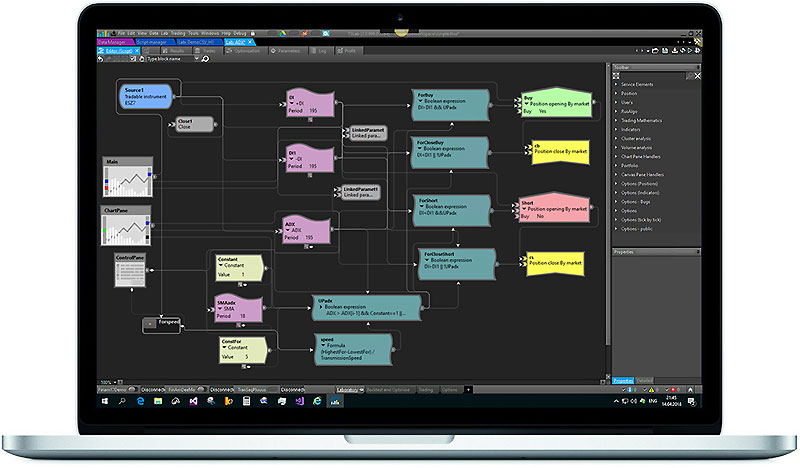 TSLab has been designed specifically for traders. It allows you to create a customized working environment, build, optimize and run trading robots.
The TSLab solution builds on flexibility, universal compatibility and boosted user experience. TSLab covers the majority scenarios encountered by novice and seasoned traders.
Build custom automated trading robots.

TSLab enables you to develop complex algorithms in a snap and bring any trading ideas to life. The solution helps you incorporate thousands of logical blocks and indicators into a single script and test innovative trading algorithms against the market.

Create custom dashboards

In TSLab, you can create a unique workspace with tailored indicators, customized charts and interactive control panes.

Develop encrypted containers.

All strategies can be securely placed in an encrypted container. This digital safe box helps you store and distribute proprietary indicators with peace of mind and rest assured they won't be hijacked or compromised.
Visual editor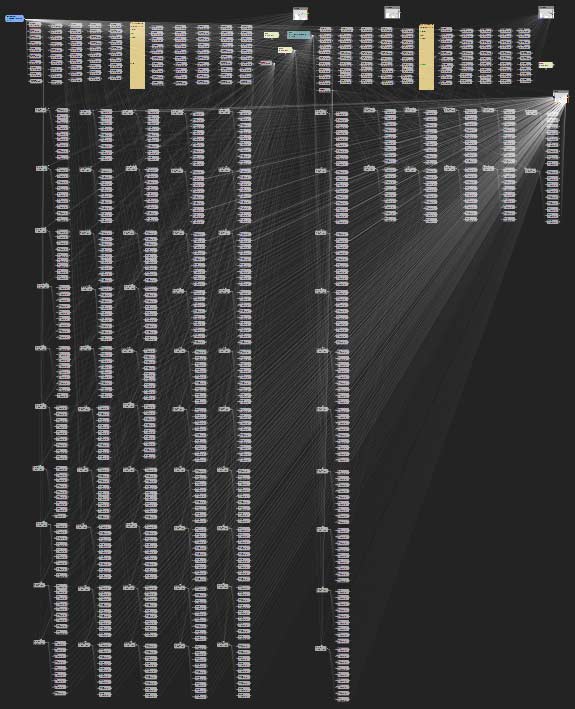 TSLab's Visual Editor makes development of complex algorithms a child's play.
Like in a construction set, you can simply pick the blocks and see your ideas embodied in custom trading scenarios.All it takes is a vision. Order placement, broker routine, complex calculations are already factored into the building blocks.
Need more tools for a custom algorithm? Let us know!
Optimization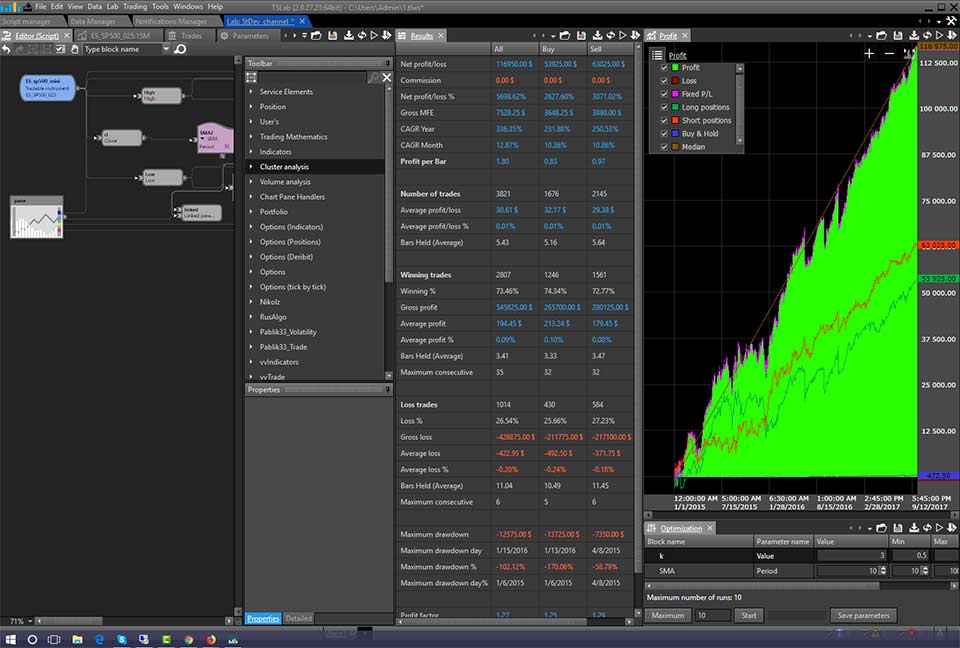 TSLab's Optimization module allows you to backtest any strategy and select optimal parameter values for your future trading robots.
The TSLab solution posts top performance rankings. The optimization process is fast and easy. TSLab performs simple enumeration of parameters eliminating potential errors. You can sort the results, select the best fits and save these parameter values for further use.
Historical data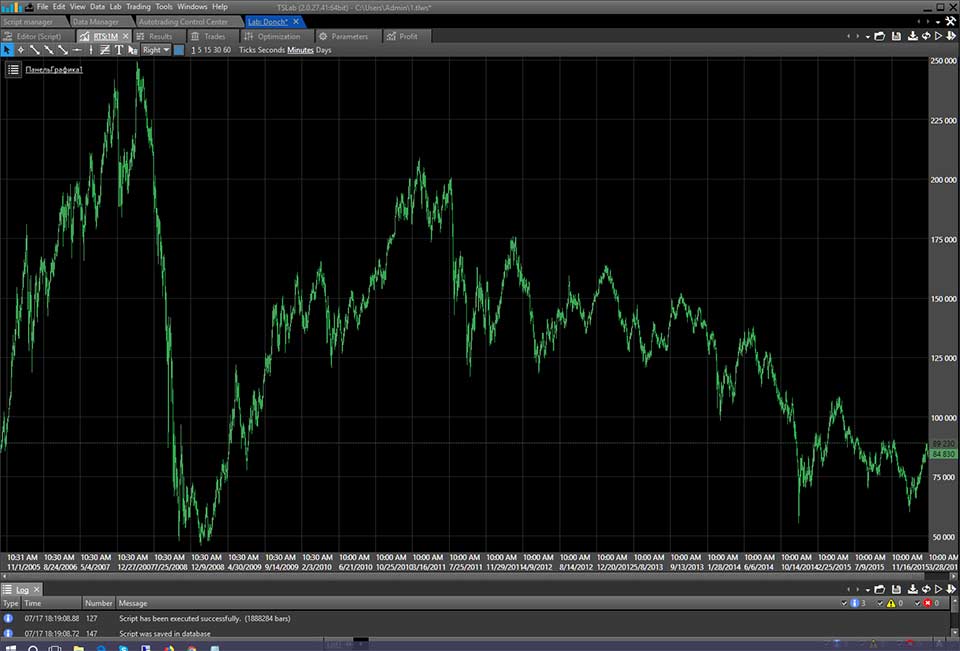 TSLab keeps track of historical data on selected instruments saving data collected by your trading agents.
It allows you to promptly analyze and fix errors in your agents on the fly.
Optimization driven by historical data boost efficiency and productivity of your agents.
Technical analysis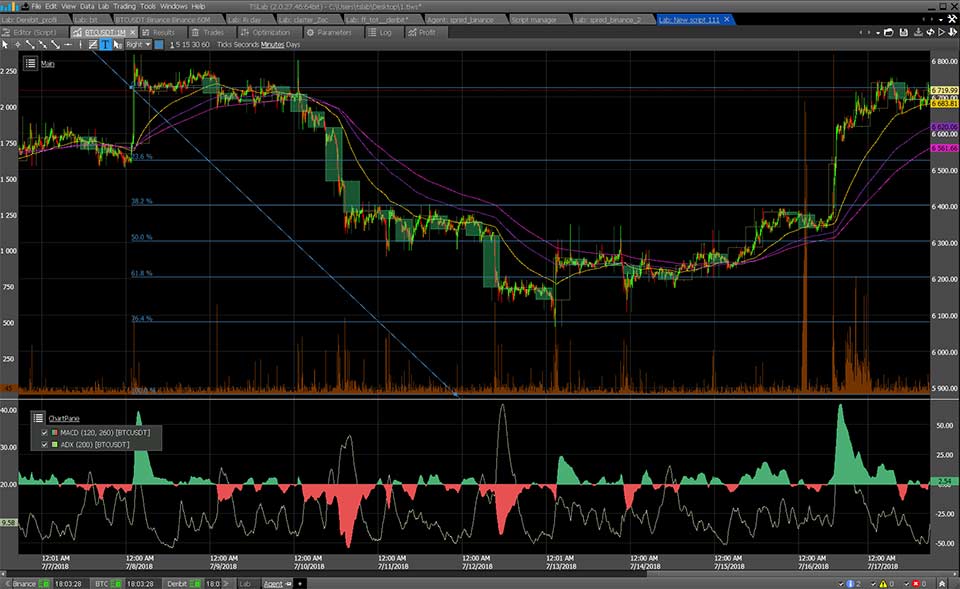 The TSLab laboratory offers a multitude of technical analysis indicators.
The package of classical indicators encompasses all key indicators known to traders. At that, you can easily fine-tune default indicator values and tailor them to your particular trading strategies or instruments
Aside from traditional indicators, TSLab delivers cluster and volume analysis tools, interactive trend, resistance and support lines, and many others.
Your ideas spark our inspiration. TSLab enables you to create brand-new proprietary indicators, encrypt files within secure digital containers and apply them later in other algorithms.